On 15 and 16 September 2021, Maisons du Monde unveiled its new Fall/Winter and Christmas collections to the press and influence. Visitors were able to experience the brand's new approach under its three new lifestyles:
"At Maisons du Monde, we're now exploring three lifestyles: Traditional, Feel-Good Boho and Expressive."
Géraldine Florin, Artistic Director at Maisons du Monde

Start your journey in a Bohemian lounge
Feel-Good Lifestyle, Anduze collection
We start our journey in a Provençal lounge inspired by a winter take on the Craft trend, where refined craftsmanship meets raw materials and simple shapes. Summer crafts are featured in more autumnal colours and comforting materials: velvet and knitted wool. This winter theme prominently features natural materials and highlights our commitment to sustainability with labelled, certified wood, and a multi-material design (ceramics, textile, leather and wood).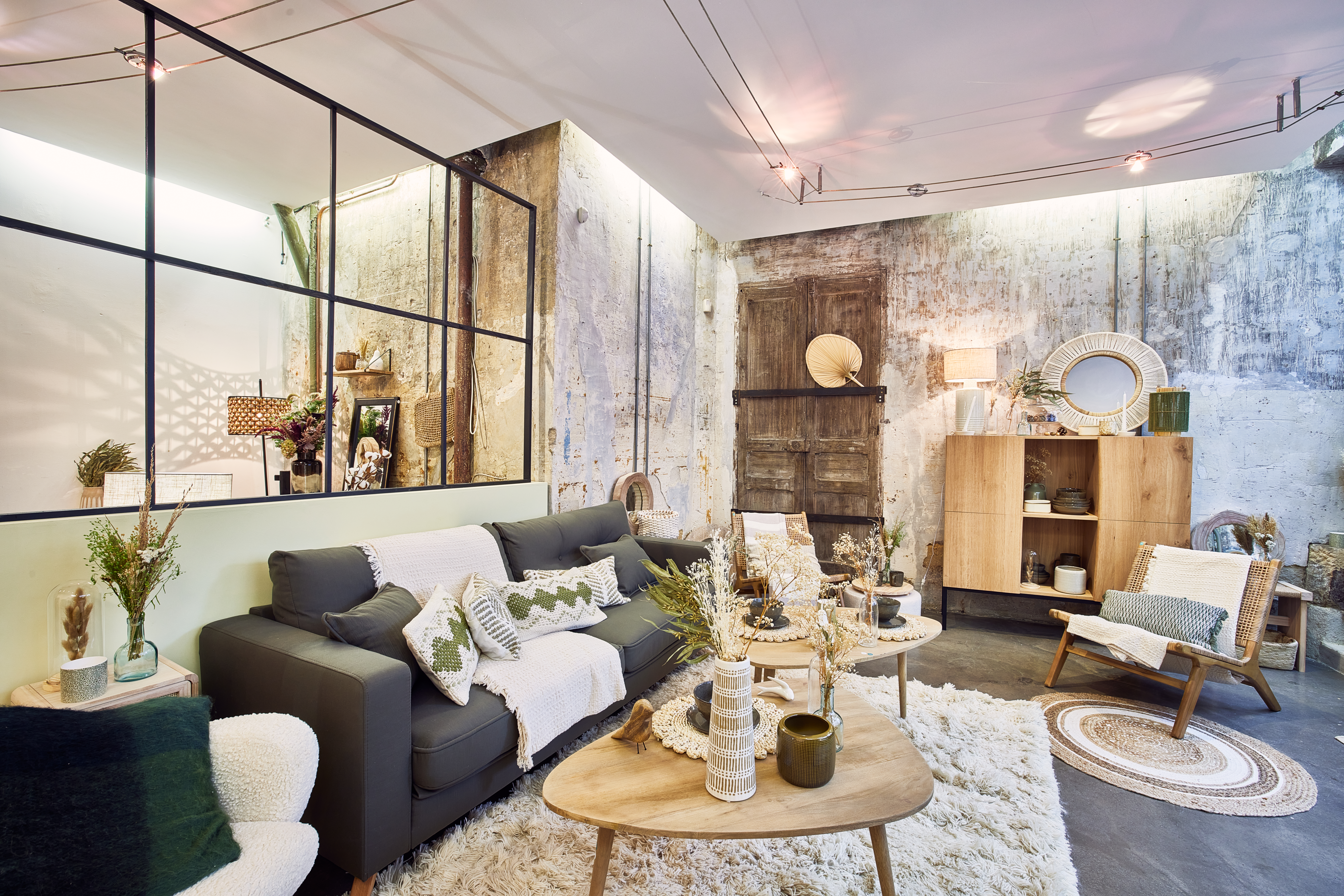 Feel-Good Lifestyle, Bergen collection
We continue the tour in the master bedroom styled with the Bergen collection. Here, comfort and warmth embrace us in an autumnal cocoon. The intense brown, rust and black colours impart a cosiness that breaks with the usual sanctuary feel. The imperfections of craftsmanship, a trend already featured in our Spring/Summer 2021 collections, extends to the new Autumn/Winter collections.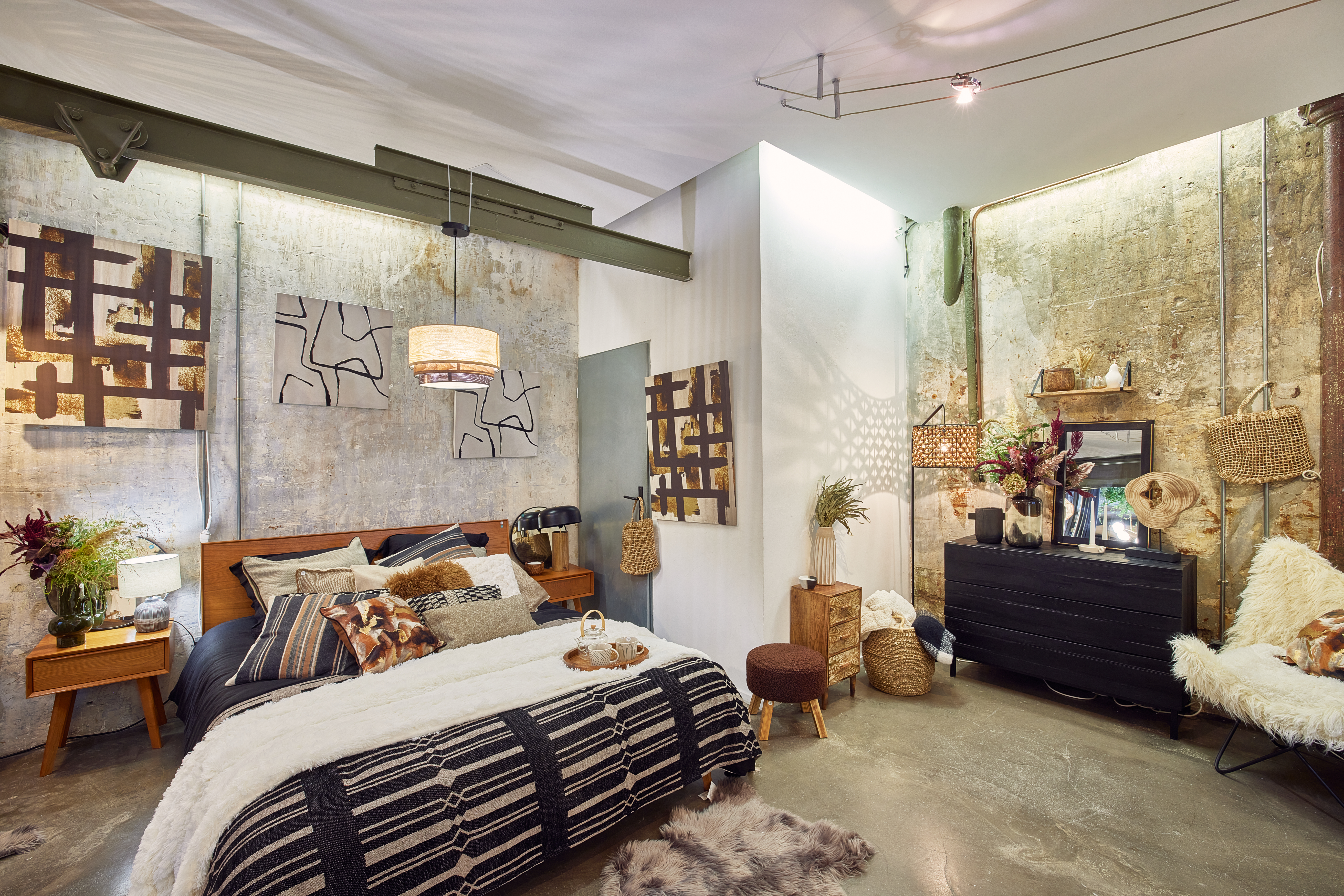 Stop off in a modern and artistic loft
Modular Lifestyle, Rotterdam collection
Here, we enter a neo-industrial universe that caters for a new audience. The apartment styled in the Rotterdam collection features fine details and a simple, functional design in a washed-out colour palette. The soft, harmonious colours are soothing yet joyously optimistic for a fresher, trendier look.
In an agile and modular style, this home is a sanctuary where living is easy: work, play sports, cook and spend time with friends and family. Today, Maisons du Monde wants to meet the needs of young, urban customers looking for compact spaces, agile and flexible homes that they can make their own.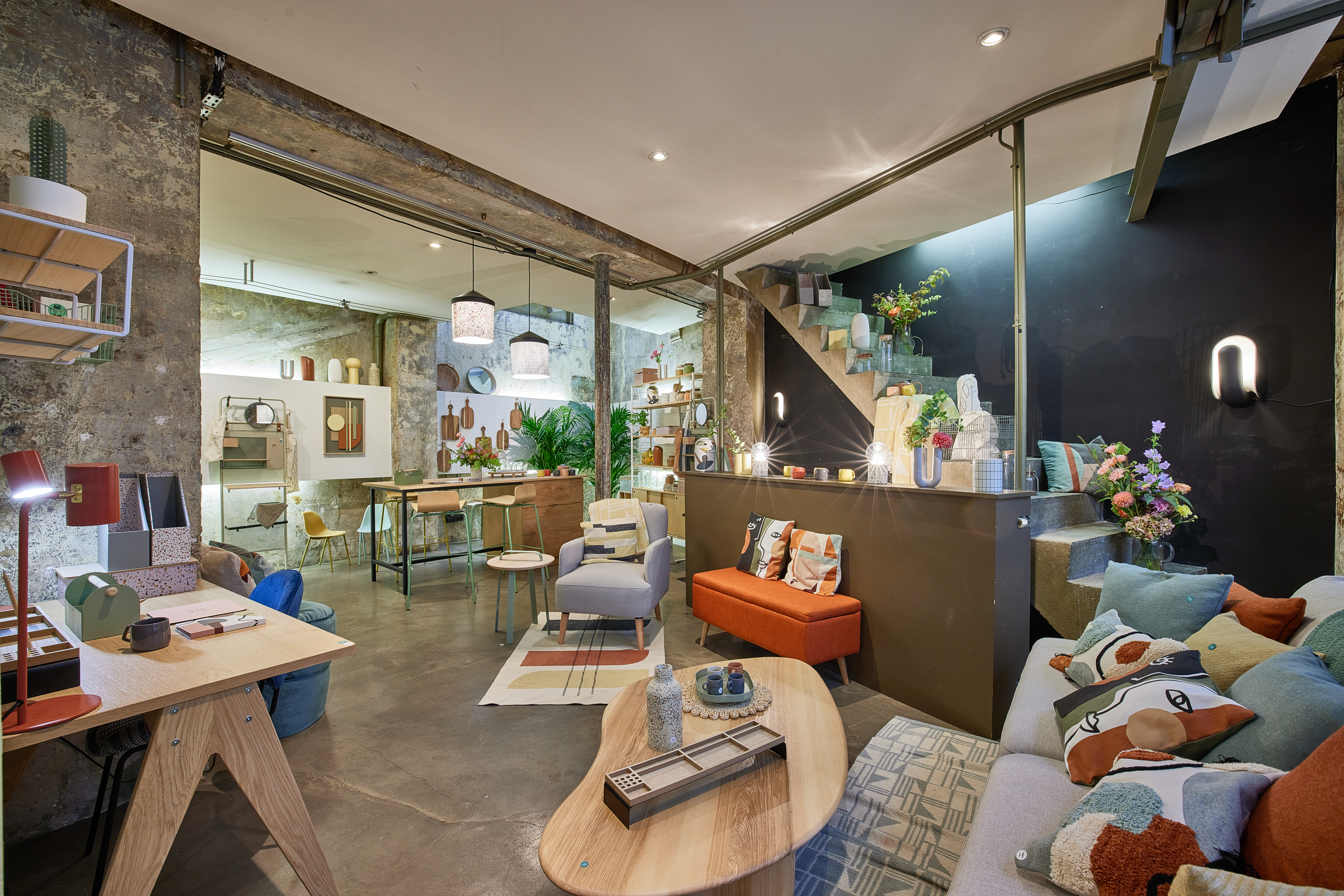 A classic chic festive table
Traditional Lifestyle, Vienne, Soft Christmas and Gold collections
Simplicity is important for a chic and elegant Christmas table, and understated designs are a must. You can play on timeless classics such as the FLORENCE white plates, which bring a pure, modern feel. Through the Vienne, Soft Christmas and Gold collections, Maisons du Monde brings a classic chic yet unapologetically modern style to this festive table.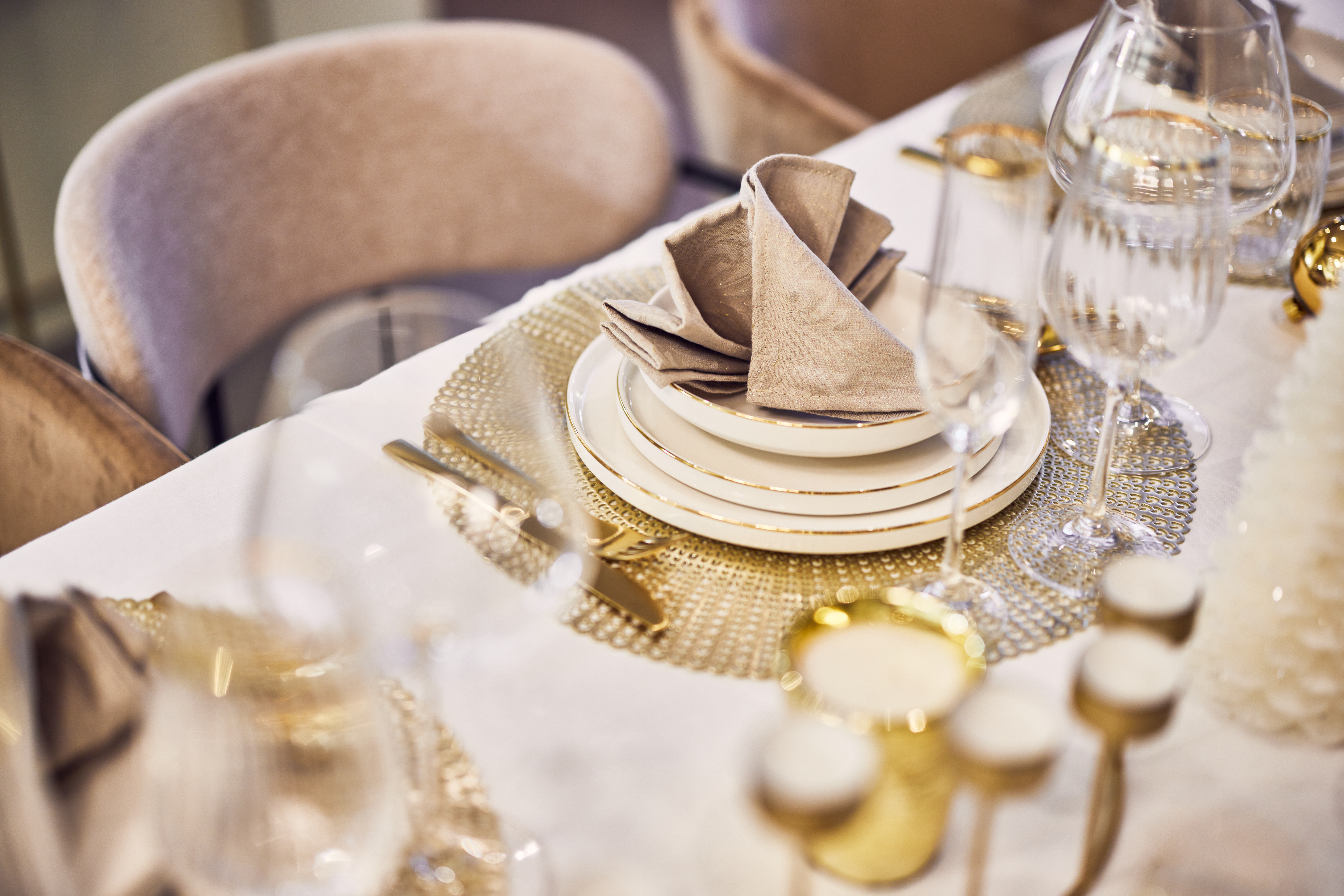 End the journey in a Neo-Kitsch lounge
Expressive Lifestyle, Londres collection
The final leg of our journey brings us to a whole new world that embodies the expressive and artistic lifestyle, with its mix-and-match, whimsical and exuberant style. Similar to a cabinet of curiosities, the deep, rich hues are punctuated by electric colours, animal prints and eye-catching metallic accents. Materials including gold metal, worked glass, velvet, fringing, feathers and furs bring a unique atmosphere to the room. Here, you can express your personality through your decor — it's the new way of introducing yourself to the world.
Thinking about Christmas, a whimsical fir tree combines bright touches and dark shades for a spectacular effect.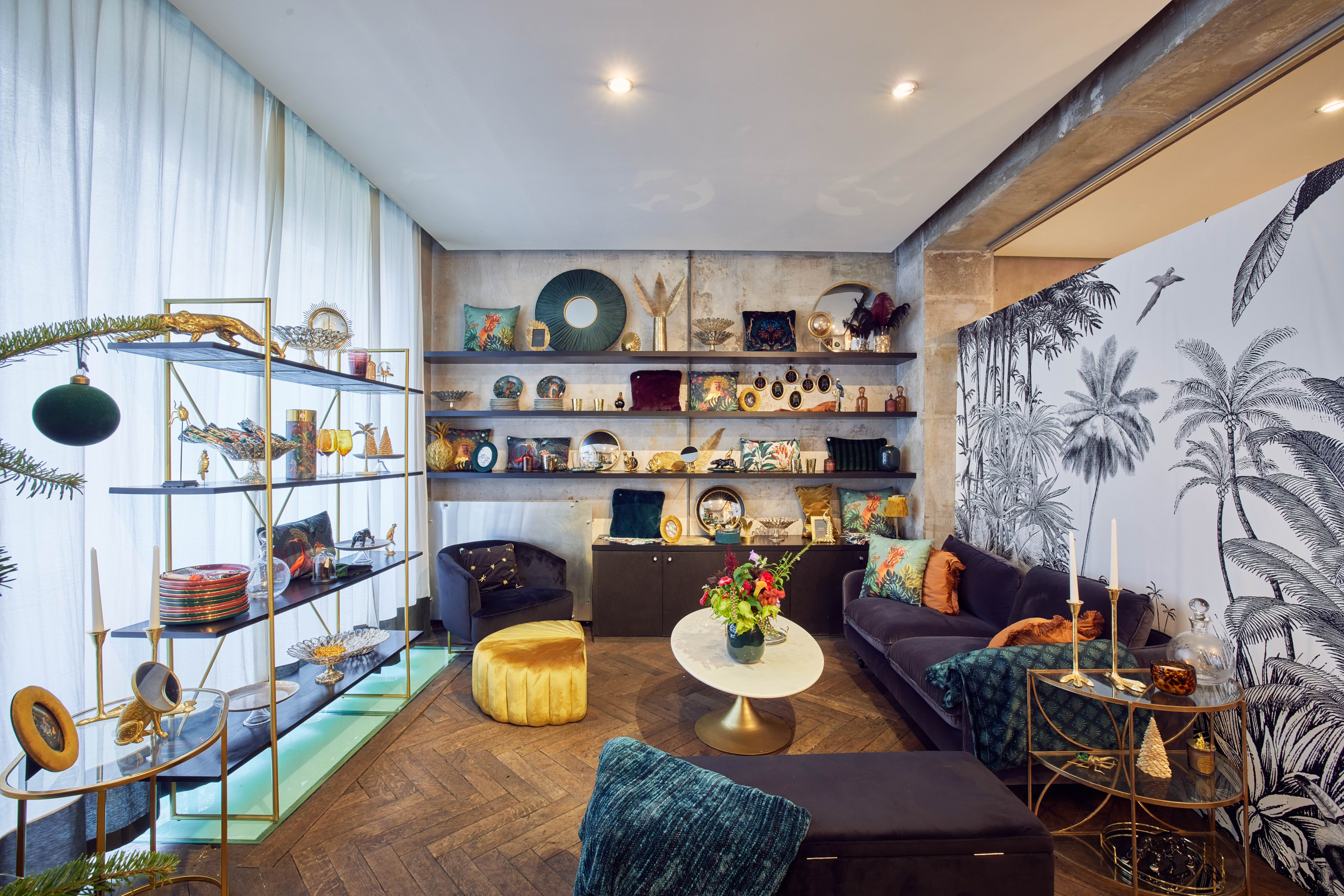 Marketplace: A wonderful Christmas selection
Launched in November 2020, the Maisons du Monde marketplace is home to more than 300 brands in addition to Maisons du Monde products, united under the common goal of inspiring decor lovers with products that are high-quality, stylish and eco-friendly in design.
Granado Phebo, Sunny, Atelier Mouti, Umbra, Ogo Living, Théophile Berthon, Atomic Soda, Mon Bento, La Majorette à Moustache, Olahoop Travel Posters, Mathilde Cabanas and Les Papiers de Ninon were introduced, offering a wonderful Christmas selection that was showcased in the form of a gift shop.