Following on from the "Together for the Climate" operation, about 20 citizen planting activities are being organised all over France with the brands from the Club Génération Responsable, including Maisons du Monde. And what about committing alongside us?
In June 2019, the initiative "Together for the Climate" invited you and your customers, to commit to the climate and to better understand the challenges that we will have to face to reduce the impact of our business. 16 brands, including Maisons du Monde, Truffaut, Intermarché and Nature & Découvertes have committed to this operation and have collected more than €50,000.
A new step: the planting of trees
Thanks to the success of this first operation, the business collective "Together for the Climate" and the association "Arbre & Paysage" is launching further actions all over France with a view to planting more than 5,300 trees in farms following the agroforestry model. These planting projects are open to all and will take place from 19 December 2019 to March 2020.
It's easy to take part! Go to the microDON platform to see the dates and sites of the forthcoming planting operations. You can then sign up directly on the site which will gradually be updated.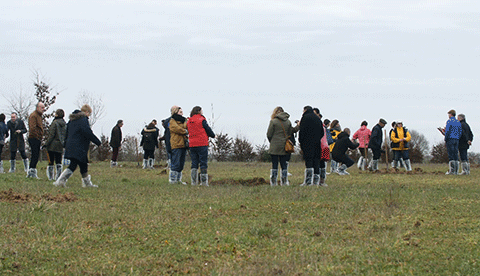 A look back at the first planting operation
On 19 December Club Génération Responsable's brands travelled to Congé-sur-Orne, near Le Mans to take part in the first citizen planting operation for the climate. Here are a few pictures (which we hope will encourage you to take part)!