Customers who come to Maisons du Monde are able to buy stylish furnishings, but that's not all. They know they will see a responsible offering, featuring certified wood, reclaimed wood and eco-designed products.  They also know that we are committed to giving our furniture a second life, through reuse or recycling.

What exactly is eco-design?
It is an approach that helps reduce the environmental impact of products throughout their life cycle! Well familiar with good eco-design practices, our furniture buyers and designers have learned to include eco-design best practices when designing our creations, in particular when it comes to selecting raw materials. Since the creation of our first eco-design Roma sofa, rewarded by the "eco-product prize", sustainability prize awarded by the French Ministry of Ecology and the French Environment and Energy Management Agency (ADEME), we have produced references every year that are designed to reduce their environmental impact at all stages. With its certified wood, its lighter-weight wood frame, its recycled foam, and its organic cotton upholstery, the Falkor sofa is the spearhead of this approach.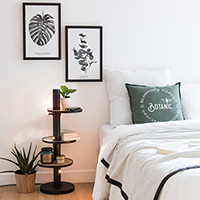 When eco-design rhymes with style
In 2016, we launched the Sustainable Creation Awards. The purpose of the contest is to promote the young talents of tomorrow, help change behaviours by educating people about eco-design and make the sustainable management of wood a key factor in the product offering. Open to design school students or recent graduates, the contest involves designing a piece of furniture or decorative item, including all the stages of the life cycle of the product: resources, manufacturing, transportation, use, end of life and waste prevention.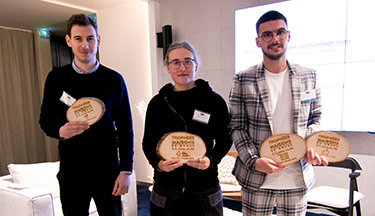 An affordable and committed responsible offer
Since 2011, the aim of our responsible offer at our stores and in our catalogue has been to make healthy products that protect our natural resources within everyone's reach. Our customers are able to find products containing certified, recycled and traced wood, as well as our eco-design references. In 2020, 68% of our wood furniture will be covered by an environmental protection system.
Furthermore, our responsible range makes a direct contribution to "1% for the planet". The turnover generated by the sale of recycled wood, traced wood, or eco-design wood products helps to finance projects by environmental associations supported by the Maisons du Monde Foundation.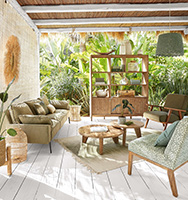 Reusing products: it's the (re)cycle of life!
To limit the environmental impact and enhance the social impact of our products, we seek to promote reuse and repair whenever possible to give them a second life for greater solidarity:
We repair damaged products and customer returns and restore them to new condition at our warehouses' woodworking shop or at a partner ESAT (centre providing care through employment),
Partnerships with social and solidarity economy organisations specialised in reuse (Emmaus, Red Cross, etc.), to which we donate products that we cannot repair. These products are then repaired and resold while helping the employees of these organisations return to work.
You can find the reuse organisations and Ecomobilier recycling drop-off locations near you on the Ecomobilier website.