All our expertise for your projects!
Hotels, restaurants, offices, retailers, event planners and interior designers, our B2B Department is here to help you furnish your new locations or renovations!  
The Maisons du Monde B2B Department has 8 years of experience taking care of everything when it comes to furnishing and decorating your business. From helping select products to getting them set up, we guide you in optimising services, budgets and deadlines. With our wide range of products and the exclusive creations of our integrated design office, we can find exactly the right items for your space and give it a true personality.
New in 2018: a second catalogue dedicated to professionals with 70 specific references for professional customers and our new "Décor advice" service: product selections, mood boards, layout, 3D modelling... Breath easy, we are here to inspire you!
Let us work with you on your project, and together we'll make your decor unique. And your customers, employees, visitors and other guests will love it!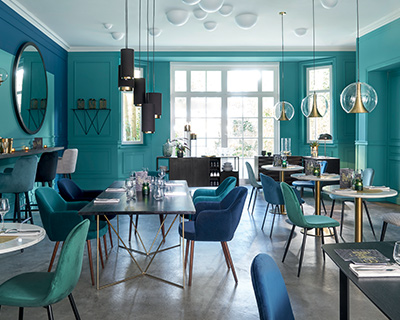 A dedicated B2B team, with a single account manager at Maisons du Monde headquarters
Access to all Maisons du Monde furniture and decorative items, for a healthy dose of style and inspiration:

3,500 furniture items and 6,000 decoration accessories
7 indoor styles from vintage to coastal, and an outdoor selection

Full support throughout your project: contact, quotation, order, deliveries, and we can travel to your location for deliveries of over €15,000, after-sales service
Furniture and decoration consulting service: storyboards, concept, space planning, modelling, etc. available at an extra charge.
Customisation or personalisation as needed (custom finishes, dimensions or logo) with minimum order quantity, available at an extra charge
Special discounts for our business customers
Delivery services include delivery to upper floors, dispatch, unpacking and packaging take-back
More than 6,500 furniture and decoration items modelled in 3D in Sketchup (available via our B2B website)
At your service: where to find us and how to reach us
An all-new paper and PDF catalogue full of inspirational ideas
If you have questions, need advice or want a quote, contact us!

By phone: + 33 2 51 71 55 87 or 0 800 00 27 84 (free call from a fixed line)
By email: pro@maisonsdumonde.com
Some of our most valued customers!
Hotels: Realise your interior design dreams
Discover the Best Western Hotel Ohm by HappyCulture, Paris
Just like you, our customer wanted to adopt a chic, fashionable style for the hotel to make guests want to come back again and again!
During the renovation to set up the new "HappyCulture" concept, the Best Western Hotel Ohm, in the 16th arrondissement of Paris, wanted to create a cosy and refined atmosphere. Mixing wood and metal furnishings, soft and high-tech materials, the design is decidedly sleek with a vintage feel.  To furnish this boutique hotel 3.0, the Maisons du Monde B2B department proposed a comprehensive bedroom set: bed, nightstand, closet, lighting fixtures and wall art.
Everything was designed down to the last detail with the hotel construction staff. From design to installation, the project was carried out as a partnership with great efficiency. And the hotel guests love it!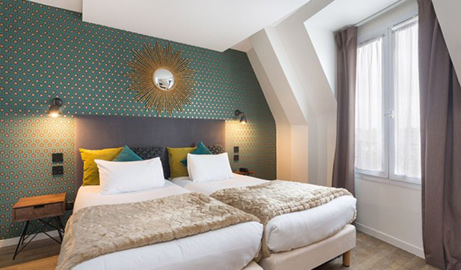 I was very happy with the services offered by Maisons de Monde! They provided friendly, quick and personalised service. All in all it was a successful project.
Restaurants: fill up on interior design
Take a look at the LEM Wine Bar in St Etienne de Montluc
When you change the menu at your bar, café or restaurant, why not change the furnishings as well? With a new look, your place will become the latest hot spot!
If you too want to stand out from the crowd with comfortable and stylish furniture, follow the example of the LEM Wine Bar.
The restaurant & wine bar and its architect commissioned the Maisons du Monde B2B department to create & invent its decor.
With our tables, chairs, stools, lighting, coffee tables and sofas, the atmosphere is friendly, and the customers appreciate their dining experience more than ever.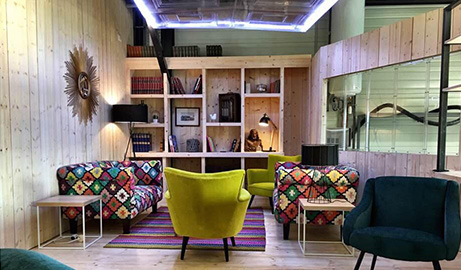 With Maisons du Monde you're sure to be able to carry out your project easily. Thanks to their diverse offering, you can find everything you need in one place! You can also use their 3D software to add up to 6,500 furniture and decorative items in 1 click, and you can also check the availability of the products in 2 clicks. And with the Maisons du Monde B2B Department, you can have the furniture delivered, assembled and set up in your brand new space! So what can I say, except thank you for a fantastic job!
Offices: promote creative work!
Take a look at "Bureaux à Partager"
You too want to offer pleasant and attractive workplaces! Discover how our customer, coworking leader in France, stimulates the creativity of the "coworkers" thanks to the inspirational ambiances designed with the Maisons du Monde B2B Department.
Coworking shared office spaces are first and foremost collaborative spaces.
To create a welcoming and stimulating decor, "Bureaux à Partager" works regularly with the Maisons du Monde B2B Department: desks, chairs, coffee tables, armchairs, decoration and lighting. Everything is designed to encourage interactions, fun or concentration, depending on what the coworkers want.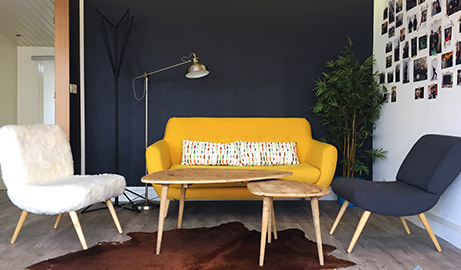 We work with the MDM B2B Department frequently for our coworking spaces and we are really satisfied. The B2B team is attentive and always responds quickly, the furniture is perfect for our needs and our clients are delighted.
Retailers & Event Planners: original ideas in stock!
Visit the Pellegrini Showroom
Do you want to give your store a style boost? Or spruce up your events? Do what the Pellegrini Showroom did and call the Maisons du Monde B2B Department to decorate your space and inspire your customers.
To create an atmosphere that matches the style of clothes offered, the Pellegrini showroom chose vintage style furniture and decorative items, carefully selected by the Maisons du Monde B2B Department.
Armchairs, coffee tables, shelves, everything works perfectly in the showroom and gives a friendly, welcoming feel for everyone who comes in, those who are shopping and those who accompany them!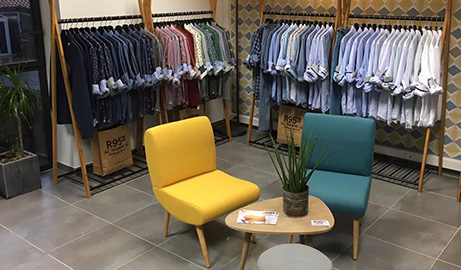 I am delighted with these Maisons du Monde products, which totally fit the ambiance of my showroom.
If you want to find out more about our collections and our B2B services, do not wait any longer!